Venues
Addis Ababa, considered to be the political capital of Africa, is the home of the African Union (AU) and the United Nations Economic Commission for Africa (UNECA). More than 95 embassies from all over the world have their missions here. This makes the capital of Ethiopia a city where one finds the highest concentration of embassies in the world after Washington DC, New York, and London.
Addis Ababa is easily accessible with daily flights to and from cities in Europe. Ethiopian Airlines, Lufthansa, Alitalia, Kenya Airways, Egypt Air, Saudia and others serve Addis Ababa. Perhaps what makes it unique is that the national carrier, Ethiopian Airlines, serves 22 other cities in Africa, making Addis the most accessible city on the continent.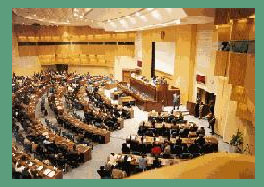 The United Nations Conference Centre is one of the most modern and sophisticated conference centres in the world offering state-of-the-art facilities. These include:
A Conference Room capable of seating 600 delegates plus 180 in the gallery
A Conference Room accommodating 400 delegates plus 48 in the gallery
Four Conference Rooms each with a seating capacity of 114
All the above have simultaneous interpretation facilities. In addition, the UNCC offers small meeting rooms for 20 to 30 people, briefing rooms, office suites, a press centre with the most up-to-date electronic equipment to transmit audio and video reports, a Business Centre, cafeteria, lounges, a delegatesí dining room, a press bar, and an exhibition area.
Africa Hall
Also in the United Nations compound is the famous and historic Africa Hall where the Charter of the Organization of African Unity was signed in 1963. Many conferences are still being held there. It has a seating capacity for 272 delegates with 100 microphones and 335 seats in the gallery. It has simultaneous interpretation facilities.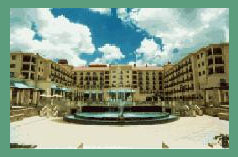 The Sheraton Addis also offers very modern conference facilities with simultaneous interpretation, big television screens, and executive boardrooms. Up to five hundred participants can be seated in the main hall.
The Sheraton Addis is set in beautiful grounds overlooking the capital city. Aside from the conference facilities, the hotel has three restaurants, a gazebo where light meals can be taken by the swimming pool, a musical fountain, cozy bars, and a health centre. This luxury collection hotel, with its beautiful rooms, is ideal for those who wish to have their meetings and accommodations at the same place.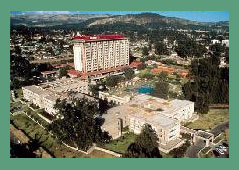 The Hilton Hotel also offers its banquet hall for meetings. It can hold up to 500 participants. There are also two meeting rooms that can sit up to twenty people and another two for up to eight persons. Overhead projectors, flip charts, projection screens, and video projectors are available. A simultaneous interpretation system is not available as of the present moment.